Who is Dr. Hideyo Noguchi?
Dr. Hideyo Noguchi (November 9th, 1876 – May 21st, 1928)
Dr. Hideyo Noguchi, born in Inawashiro, Fukushima Prefecture, is a nationally renowned Japanese scientist who in late 19th – early 20th century,at the time when infection diseases were raging, dedicated his life to bacteriological research and died in the line of duty while studying yellow fever in the Gold Coast (present-day Republic of Ghana).
His portrait was chosen for the 1,000-yen banknote (equivalent to approximately 10 USD).

Based at the Rockefeller Institute of Medical Research in the United States, he conducted research in a number of countries, and was nominated for the Nobel Prize three times, in 1914, 1915, and 1920, for his research on syphilis spirochete.

Although Dr. Hideyo Noguchi, being a bacteriologist, dedicated his life to finding out the cause of diseases, electronic microscopes had not yet been invented in his lifetime, and his studies were subsequently succeeded through development of science and technology.

However, he fervently and patiently continued his field-based research trying to establish the root causes, published a lot of scientific papers,and to far-off continents crossed country borders in an attempt to save humankind from disease.

Dr. Hideyo Noguchi'sinsatiable willingness to challenge, his spirit and dynamism are the traits that we should acquire in these difficult times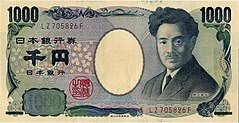 The portrait photo used for the banknote was Dr. Hideyo Noguchi favorite. It was taken in 1918 in Ecuador in Latin America at the time when he conducted research on yellow fever.
Source:"Information about Dr. Hideyo Noguchi." Bank of Japan Fukushima Branch.
https://www3.boj.or.jp/fukushima/noguchi.htm
Historical Background and Encounter with Modern Medicine
Dr. Noguchi was born during the Meiji Restoration, at a time when Japan was starting out on its journey to become a modern nation, as the eldest son of a poor peasant family in the present-day town of Inawashiro in Fukushima prefecture, in the former Aizu Domain which had supported the defeated Tokugawa Shogunate.
In this era when the world was engulfed by imperialism of the great powers of Europe and the United States, Japan was seeking a way to emerge from a remote corner of the Far East as a modern country and was full of opportunities to learn from the advanced western civilization, open up one's life through education, and create a modern society.

At the time when Dr. Noguchi was born, Yukichi Fukuzawa (a leader of the Japanese Enlightenment who spread western knowledge through practical science and contributed to modernizing the country) whose portrait was also chosen for the Japanese 10-thousand-yen banknote, penned his work titled "An Encouragement of Learning" (1872-1976).
Dr. Noguchi's homeland which from the viewpoint of the new Meiji Government had been siding with the old rule, in addition to the local strong adherence to Bushido, the samurai spirit, presented a chance for those who had ambitions to become active on a global scale through learning and needed support to achieve it.
The turn of fortune for Dr. Noguchi, then a diligent student, came at the age of 16 when his teacher and schoolmates provided support so he could have surgery on his left hand that was severely burned when he was 2 years old. He could now use his left hand.

The operation was performed by Dr. Kanae Watanabe who studied medicine and became a practitioner in the United States, went on to Europe to learn more about medicine and social conditions, and after returning to Japan opened the Kaiyo Clinic and become known as "Watanabe Dokutoru" with the previously unheard-of title rendered in Japanese.

This encounter with Dr. Watanabe made Noguchi realize how wonderful medical science was, and he resolved on learning medicine.

In the following year of 1893, he joined Kaiyo Clinic as a pharmacy student and studied basic medical science, English, French, and German for three years. He read practically all western books that Dr. Watanabe had brought back to Japan, and practiced conversation at church.
This was the starting point for Dr. Noguchi who set his aim, succeeded in life, and devoted his whole life to medical science for the benefit of the world and the people.

During this time, in 1895, at the age of 18 he was baptized at the Wakamatsu Church of The Church of Christ in Japan.

The life of Dr. Noguchi also carries a deep meaning as a model case for opening one's way by learning and contributing to the progress of humankind.
Becoming a doctor and moving on to the world
After that he moved to Tokyo, and in 1897 at the age of 21 obtained a medical license, worked at an institute of infectious diseases, and later at the Yokohama Port Quarantine Station.
In 1900 at the age of 24, he sailed to the United States relying on Dr. Simon Flexner from the University of Pennsylvania.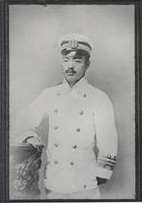 Pictured in uniform of quarantine medical officer at Yokohama Port Quarantine Station
During his work at the Yokohama Port Quarantine Station, his discovery of a patient with plague was highly evaluated, and he was sent as a member of the International Sanitary Board to China to take part in managing preventive measures against epidemics. This mission was the start of Dr. Noguchi's international activities. Incidentally, he became proficient in Chinese, and his work was highly acclaimed.
After his arrival in the United States, his first assignment was studying snake venoms. His results were highly valued, and 1902 at the age of 26 he became a pathology assistant at the University of Pennsylvania, and in the following year, a research assistant at the Carnegie Institution. He went to Denmark to study the basics of bacteriology at Statens Serum Institut.
In 1904, he returned to the United States and was invited to the Rockefeller Institute for Medical Research (established in 1901) that was headed by Dr. Flexner. In 1907 he received his Master of Science degree from the University of Pennsylvania.
In 1911 he was awarded a Doctor of Medicine degree by Kyoto Imperial University, an in 1914, a Doctor of Science degree by Tokyo Imperial University. In the same year he was promoted to a full member of the Rockefeller Institute for Medical Research and nominated for the Nobel Prize for his research on syphilis spirochete (he was nominated again in 1915 and in 1920) gaining global recognition.
In 1915, he was awarded the Imperial Prize of the Japan Academy.
In autumn of that year, he returned to Japan for the first time in 15 years, attending lecture meetings and welcome ceremonies in various locations. He was reunited with his mother who had waited impatiently for him to come back, but his first return to Japan after he departed for the United States has proved to be his last.
Fight against yellow fever
From 1918, Dr. Noguchi became part of the research team that was sent by the Rockefeller Institute for Medical Research to take measures against yellow fever which was spreading in South America at the time. He travelled extensively to Ecuador, Mexico, Peru, and Brazil to conduct research at the frontline.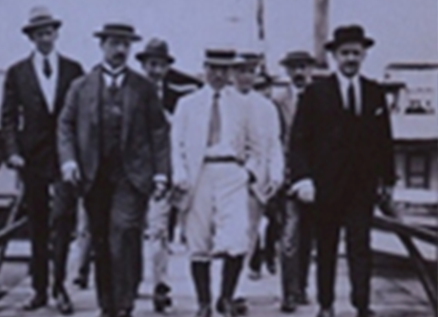 Arriving in Santiago de Guayaquil, Ecuador, to study yellow fever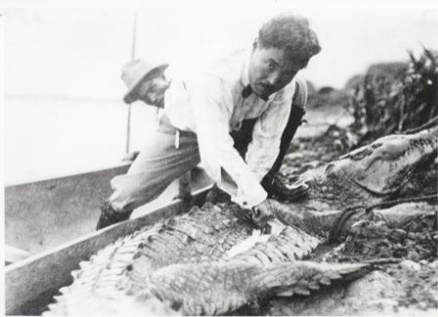 Dr. Hideyo Noguchi dissecting a crocodile on the Rio Grande -
In 1927, he volunteered to go on the Rockefeller Institute for Medical Research mission to deal with yellow fever in Africa. At the end of his research in the Gold Coast (present-day Republic of Ghana) that lasted half a year, just before his return, he became infected with yellow fever during one of the experiments and passed away on 21 May 1928 at the age of 51. He was posthumously awarded the Order of the Rising Sun, 2nd Class, Gold and Silver Star
On 15 June, he was buried at Woodlawn Cemetery in Bronx, New York.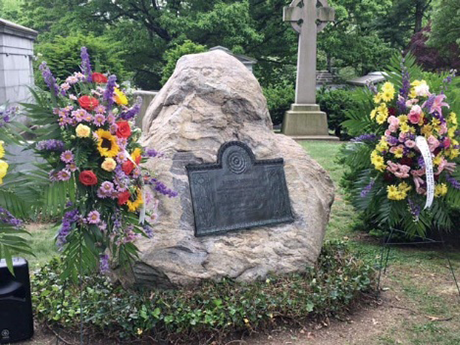 The grave of Dr. Hideyo Noguchi in Woodlawn Cemetery
(Photo: New York Hideyo Noguchi Memorial Society, Inc. (HNMS))
Epitaph
Born in Inawashiro Japan November 24 1876
Died on the Gold Coast Africa May 21 1928
Member of the Rockefeller Institute for Medical Research
Through Devotion to Science
He Lived and Died for Humanity
For details, refer to
Hideyo Dr. Noguchi Africa Prize section of Cabinet Office, Government of Japan website:
Who is Dr. Hideyo Noguchi? (in English)
Hideyo Noguchi Memorial Museum website:
Works by Dr. Hideyo Noguchi:
Dr. Hideyo Noguchi wrote more than 200 research papers in Japanese and in English in his lifetime.
104 of his works that were submitted to the Journal of Experimental Medicine can be accessed from this page (in PDF format).
* These PDF files containing articles published in the Journal of Experimental Medicine have been uploaded with permission (dated 18 March 2020) from Rockefeller University Press.
The narrative about Hideyo Noguchi presented in this article is based on Hideyo Noguchi Africa Prize section of the website of Cabinet Office, Government of Japan, and the website of Hideyo Noguchi Memorial Museum which is managed by the Public Interest Incorporated Foundation
"Hideyo Noguchi Memorial Association".